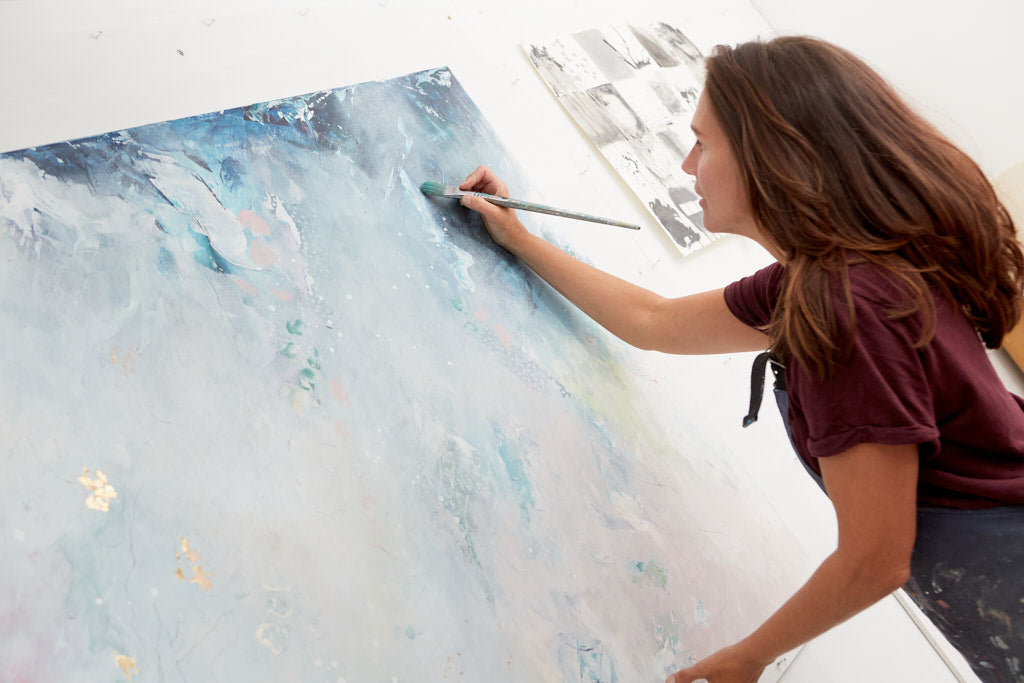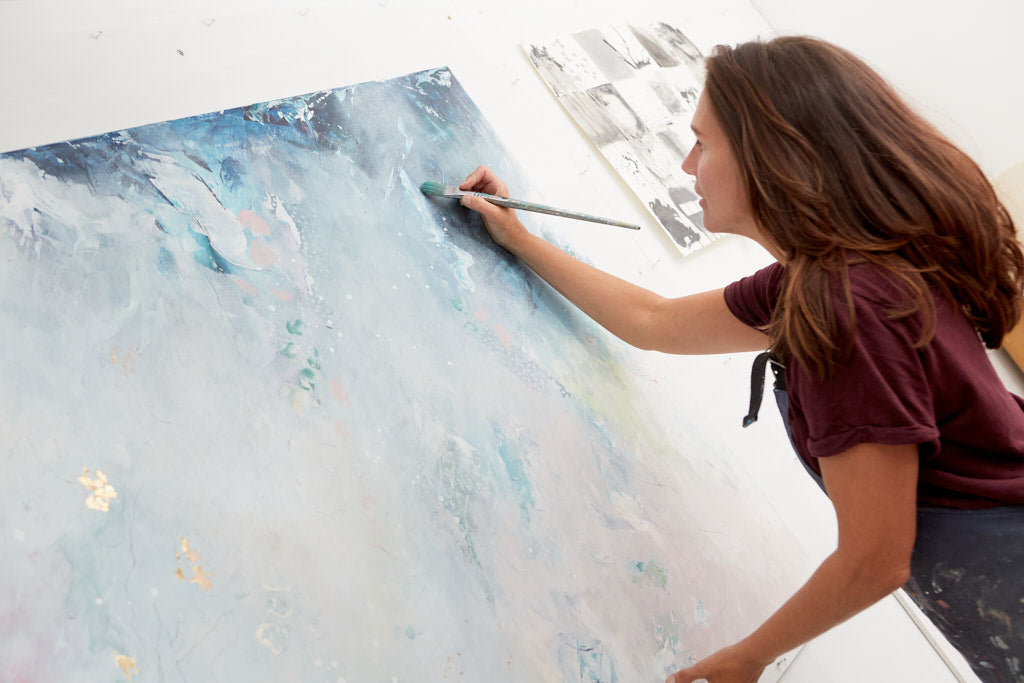 Creating uplifting, free and expressive abstract art that infuses a space with energy
Artists Statement:
Beauty, freedom, possibility and adventure are key drivers behind my art.
In particular how these relate to women; sensuality and desire, and our freedom to express these without societal taboos or judgement.
Creating distorted, dream-like representations of this untethered energy, either in figurative or pure abstract form, my work seeks a balance between loose expression and technical rigour. 
Exploring and celebrating the various emotional and energetic states that can coexist... strong and vulnerable, innocent and guilty, wholesome and suggestive, liberated and oppressed.
Ultimately my work is about freedom and empowerment.   
I use a multi-disciplinary approach to creating, choosing materials that elicit certain sensual responses; luscious creamy paints, indelible ink stains, torn collage papers, scratched surfaces, shimmering metallics. 
The end result being beautiful, uplifting pieces that honour women; the parts of us that are broken or raw, the parts that are whole, and in particular the parts that seek to be wild and free.
A bit of backround...
At the age of eleven I moved away from home to train, full-time, as a professional dancer and so much of my life has been spent learning to express emotion without words.
As a young child, I spent weeks in my bedroom, in solitude, sketching and savouring every moment - it was my first taste of pure contentment. 
I drew and painted throughout my dance training but then as I graduated, lost touch with my art.
Many years passed and during that time I travelled the world, studied for a Masters Degree in Business, set up two successful businesses of my own, got married (and divorced!), had two beautiful boys and learnt many, many lessons.
Like so many others, life, responsibilities and other people's expectations of me got in the way. As I got older however I realised that there was a deep yearning inside for more. 
After years of soul-searching I discovered that it was a call back to art.  The longer I tried to ignore it, the worse it got until eventually after a long period of burnout I decided to honour what my gut was trying to tell me.
I made some changes in my life and studied everything I could to do with art…the foundations, abstraction, realism, colour theory and everything in between until I finally got to a place where I felt at home.
Every day that I moved closer to art, that emptiness inside started to disappear and the more I was able to express myself fully. These days I get to make art every day and I feel deeply, truly happy. 
I'm also privileged to use my twenty years of business experience to help other artists learn how they can build and run profitable and sustainable creative businesses. 
The fact I get to combine the two things I love, I am eternally grateful for. 
That's a little about my life; how and why I came to create the art I make today.
Thank you for stopping by
With love and gratitude
Amanda
x